NUDE BEACH  
| | |
| --- | --- |
| | "I saw Moondoggie naked and it was the absolute ultimate!" |
There's a secluded nude beach on the Gulf of Mexico, about thirty-five miles from Galveston Island. It exists in the heart of Texas Bible Belt country. Area churchgoers who manage to find the place are scandalized. Local newspapers run dire editorials. Shocked ministers drive down regularly.




| | |
| --- | --- |
| | "I bet the Kahoona hangs ten." |
New visitors will notice both straight and gay sections, sandbars frequented by dolphins, surfing, fishing, shell hunting and overnight camping. Since alligators roam the dunes, pets should be kept leashed. Visitors will not find fresh water, Port-O-Cans, gas stations, restaurants, fast food chains, loud music, paved roads, or lewd behaviour.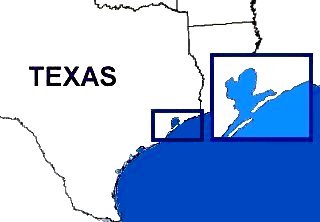 Get a road map. There's a sign at the junction of HWY 124 and HWY 87 that reads "WASHED OUT - DO NOT ENTER". (Hurricane Alicia hit the area in 1983 so don't attempt this without a spare tire and nerves.) Ignore that sign. Just drive around it. You may notice other vehicles doing the same. Drive until you can safely turn right, toward the beach, and then make a left onto the beach and go for about three miles. When you see a plethora of low-hangers and pouty nipples, you're there.
Don't say I didn't warn you.
THE GULF
---