Christian Network Television
"We've got the programs God watches!"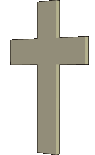 SING CALYPSO WITH PAT ROBERTSON! (MIDI MUSIC LOADING)
         


The season is always greener,
On somebody else's show,
You think about switchin' channels,
But dat's not de way to go.
Just look at the sea around me,
These angelfish workin' late,
Such heavenly things surround me,
Now - who gonna pass the plate?



---
[Music by the great Alan Menkin. Revised lyrics by Max Pearson.]




Max City  loves  Walt Disney
---